Category Archives:
Civil Liberties
Recently, my daughter suggested we visit Martin Luther King Jr Historic Site. Here are a few pictures from our visit.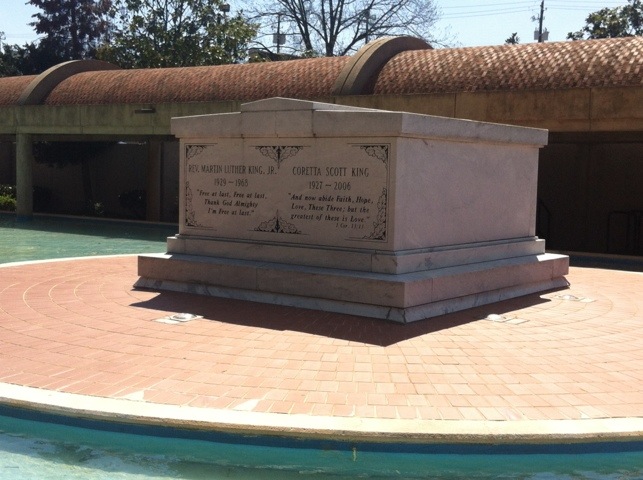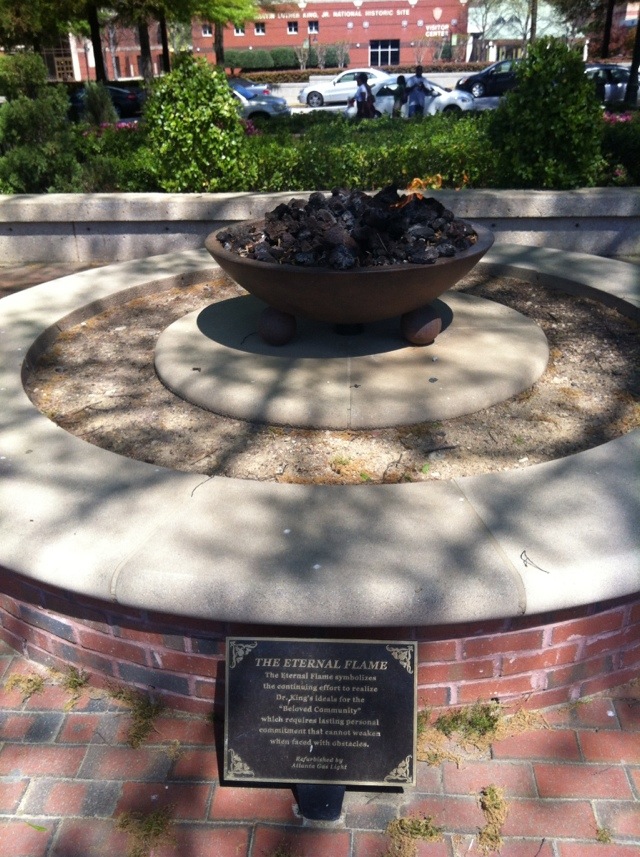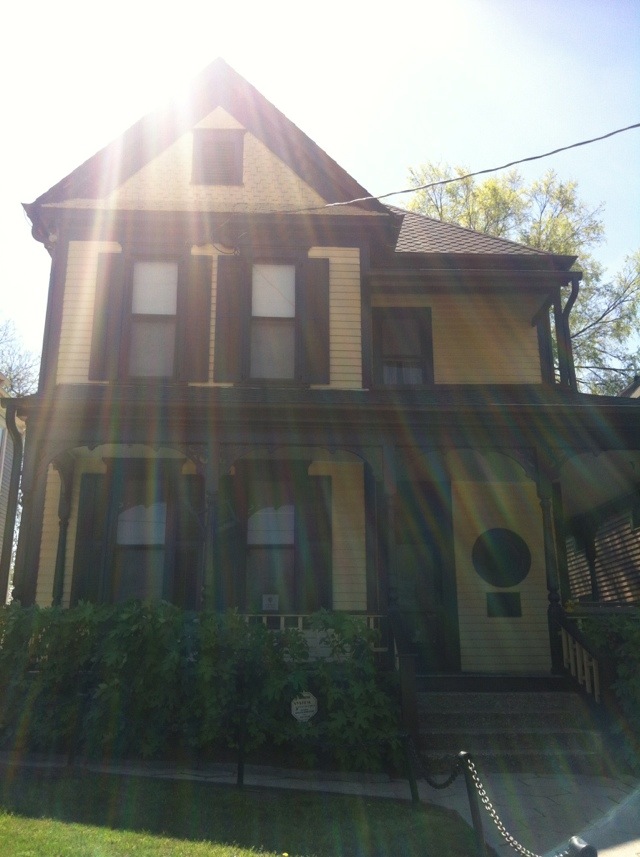 Related Reading
I guess you could figure out that I was reading The Dark Side: The Inside Story of How The War on Terror Turned into a War on American Ideals by my recent blogging on torture.
This is a must-read book by Jane Mayer. It follows the torture story meticulously and focuses on how the policy developed. It is clear from the book that there were some major villains in the Bush administration who pushed for torture and got their way most of the time. John Yoo, David Addington and others shut the actual officials who were supposed to make national security policy (at the subcabinet level) out. However, the cabinet principals don't come out looking good. They were either indifferent or supportive of the euphemism "enhanced interrogation techniques", properly known as torture.
While there are several people mentioned in the book who tried to stop torture by the US government, there were also lots and lots of bad guys, lawyers who wrote or approved torture memos, military, civilian and CIA personnel who approved, condoned, supervised or actually tortured suspected or actual terrorists and intelligence, military and law enforcement who consumed the results of torture investigations. There are times when I feel like the Obama administration should release the names and deeds of all those people, anyone who was in any way involved with the torture policy. I know it's not going to happen and isn't really fair either.
What should be done is to release all the information about US actions and policy with regards to torture. For example, the thousands of pages of the CIA Inspector General's May 2004 report.
Related Reading
I have been knee deep in torture recently. No, I haven't been tortured nor have I tortured anyone. I have been reading about torture. I recently wrote about torture in my review of Taxi to the Dark Side where I collected links to my previous writings on the subject as well. I also discussed US public opinion about torture a few months ago.
With the recent release of the OLC torture memos, the torture debate has restarted again. There have been calls for prosecuting those who carried out the torture and/or those who made the policy decisions. Obama has called for looking forward instead of backward (imagine if every criminal had the same attitude). Senator McCain is against investigating torture or prosecuting anyone.
I am generally of the opinion that if the state must fall it must fall but we should get to the truth. However, after reading a lot about torture I have a distinct feeling that there is not going to be any prosecutions and even if there are, the chances of acquittal are very high. I find myself agreeing with most of the points Tyler Cowen makes against prosecution. The public opinion just isn't there against torture (more on this in a bit). Hence, I believe it is more important to build a consensus against torture than to prosecute, as Matt Yglesias argues.
This doesn't mean that we shouldn't do anything. For starters, we should make sure that the architects of the torture policy, like George Bush, Dick Cheney, David Addington, John Yoo, Jay Bybee, etc. are kept far from the levers of power. Therefore, I support efforts to impeach Jay Bybee, former head of OLC and currently a judge on the 9th Circuit Court of Appeals. Also, we need a commission or some other mechanism to make public all the details about torture as practiced during the Bush era.
There are some who think that it was the higher echelons of the Bush administration that was responsible for torture. I think it's clear now that this is wrong. Democratic leaders might not have ordered the torture (or "enhanced interrogation") but some of them knew about it and some even approved. Similarly, other Western governments or their intelligence agencies were complicit, directly or indirectly, in renditions, torture, black sites, or sharing intelligence.
While there were courageous people in the military, government and civil society who opposed torture and did try to stop such practices, there were also a lot of others, lawyers, military commanders, CIA personnel and others, who were fully complicit in requesting, approving and implementing torture. I am about to finish reading Jane Mayer's The Dark Side and it makes the case in detail. See, for example, former CIA counterterrorism official Michael Scheuer's response or Condi Rice's defense of imperial powers for the President.
That's why I found the case of abolishing the CIA to be worth considering. CIA has a history of illegal activities (see Family Jewels and Church Committee Report and Iran-Contra report). Spencer Ackerman argues against abolition of CIA, but I found Quincy Adams and Matt Yglesias more convincing.
As for arguments about torture and its efficacy, I think torture is wrong regardless of whether it can yield any useful information or not. It is possible for torture to extract true information, though typically there'll be lots of false confessions as well. However, it's inhuman and morally wrong and that's why we shouldn't do it. As Obama said recently:
waterboarding violates our ideals and our values. I do believe that it is torture. […] And that's why I put an end to these practices. I am absolutely convinced that it was the right thing to do — not because there might not have been information that was yielded by these various detainees who were subjected to this treatment, but because we could have gotten this information in other ways — in ways that were consistent with our values, in ways that were consistent with who we are.
I agree wholeheartedly with Kevin Drum's reasons for opposing torture.
I don't care about the Geneva Conventions or U.S. law. I don't care about the difference between torture and "harsh treatment." I don't care about the difference between uniformed combatants and terrorists. I don't care whether it "works." I oppose torture regardless of the current state of the law; I oppose even moderate abuse of helpless detainees; I oppose abuse of criminal suspects and religious heretics as much as I oppose it during wartime; and I oppose it even if it produces useful information.

The whole point of civilization is as much moral advancement as it is physical and technological advancement. But that moral progress comes slowly and very, very tenuously. In the United States alone, it took centuries to decide that slavery was evil, that children shouldn't be allowed to work 12-hour days on power looms, and that police shouldn't be allowed to beat confessions out of suspects.

On other things there's no consensus yet. Like it or not, we still make war, and so does the rest of the world. But at least until recently, there was a consensus that torture is wrong. Full stop. It was the practice of tyrants and barbarians. But like all moral progress, the consensus on torture is tenuous, and the only way to hold on to it — the only way to expand it — is by insisting absolutely and without exception that we not allow ourselves to backslide. Human nature being what it is — savage, vengeful, and tribal — the temptations are just too great. Small exceptions will inevitably grow into big ones, big ones into routine ones, and the progress of centuries is undone in an eye blink.
Let's look at recent polls about torture and investigation.
In the NBC/WSJ poll, 50% disapprove of Obama ordering the closing of Guantanamo detainee prison and 53% disapprove of the release of the OLC torture memos. 53% think that the Bush administration used torture while 30% say that they didn't. 46% say that the harsh interrogation helped the US extract information while 42% think it hurt the US by undermining its moral authority. And only 33% want a criminal investigation of the Bush torture policy.
In the Washington Post/ABC News poll, 53% support Obama's release of the torture memos. 48% think there are cases when torture should be considered and 51% support an investigation of the treatment of detainees.
In a Gallup poll, 51% favor an investigation of harsh interrogation techniques used by the Bush administration, but 55% think such treatment of terrorism suspects was justified.
30%, seem to agree with Cheney's position that the ends justified the means and that no investigation is necessary. Nearly as many (25%), though, would appear to side with many congressional Democrats who say the techniques should not have been used and an investigation is warranted. Twenty-three percent think the techniques were warranted yet still favor an investigation, while 10% think the methods should not have been used but nevertheless oppose an official inquiry.
66% of Democrats favor an investigation while only 48% of independents and 37% of Republicans do. 39% of Democrats think use of harsh interrogation techniques on terrorism suspects were justified while 55% of independents and 80% of Republicans agree.
In the New York Times/CBS News poll, 37% say waterboarding and other aggressive techniques are sometimes justified to extract information from a suspected terrorist while 46% disagree. Interestingly, only 16% of African Americans think they are justified. Only 71% consider waterboarding to be torture. 34% want Congress to investigate torture and warrantless wiretapping. 47% want to keep the Gitmo prison while 44% want to close it.
As you can see, there is some variation in these surveys. Nate Silver and Andrew Gelman try to explain why that is. While support for torture investigation varies from 33% to 51% in the various polls, the other numbers are a bit more consistent. The country seems to be almost equally divided on whether the torture memos should have been released and whether the Gitmo prison should be closed. Those who think torture is sometimes or always justified seem to vary from 37% to 55% while opposition to torture never reaches majority status either.
Looking at my previous writing on public opinion about torture, there doesn't seem to have been any big change in public opinion in the US.
Finally, Pew did a survey about torture breaking down the numbers by religion, attending church, political party, etc.
| | | | | |
| --- | --- | --- | --- | --- |
| | Often justified | Sometimes justified | Rarely justified | Never justified |
| Total US | 15% | 34% | 22% | 25% |
| White evangelicals | 18% | 44% | 17% | 16% |
| White non-Hispanic Catholics | 19% | 32% | 27% | 20% |
| White mainline Protestants | 15% | 31% | 22% | 31% |
| Unaffiliated | 15% | 25% | 29% | 26% |
| Attend religious services at least weekly | 16% | 38% | 19% | 25% |
| Attend religious services monthly | 18% | 33% | 23% | 23% |
| Attend religious services seldom or never | 12% | 30% | 27% | 26% |
| Republican | 15% | 49% | 21% | 14% |
| Independent | 19% | 35% | 23% | 19% |
| Democrats | 12% | 24% | 22% | 38% |
Only a quarter of Americans are against torture under all conditions. This is astounding, but even worse is that only one of six white evangelicals and one in seven Republicans thinks torture is never justified. Even if we are generous and add up the numbers for those who think torture is rarely justified to the "never justified" ones, only 47% of Americans are against the use of torture. But only one-third of white evangelicals and 35% of Republicans are opposed to torture. I guess we could call these people the American Taliban.
While the Pope has come out against torture, among his followers American White Catholics a bare majority believes torture is often or sometimes justified. I wonder if any priest will deny communion to these torture-supporters.
The only groups (among those listed) with a majority who think torture is never or rarely justified are White mainline Protestants (53%), the unaffiliated (55%), those who seldom or never attend religious services (53%) and Democrats (60%). It's disappointing that even these numbers are so low.
It can be argued that this support of torture by the religious is not a result of their being religious but rather due to the fact that those who are more religious are more likely to be Republicans in the US. I would agree with that, however, if religion can't even get the deeply religious to oppose such an inhuman practice as torture, what use is such religion?
Related Reading
We saw Taxi to the Dark Side quite some time ago.
It's a great documentary about the torture that the US government engaged in when George W Bush was President. The main focus of the documentary is a young Afghan taxi driver, Dilawar, who was stopped at a checkpoint in Afghanistan and then jailed at Bagram by the US military. There he was interrogated and tortured. And finally murdered by US military and intelligence personnel.
The movie also goes into the torture policies of the Bush administration and how they were applied in Guantanamo, Iraq, Afghanistan and various other black sites around the world.
The torture stories are hair raising and it has been clear for some time that the the use of torture was a deliberate policy approved at the highest levels of the Bush administration. However, I felt it difficult to say much about the documentary other than ranting against the war crimes and inhumanity of the previous administration. Thus this review lingered in draft status for a while. After all, what more could I write since I have written multiple times about torture during the past six years.
However, there have been some recent developments since Barack Obama became President. He has released a number of Justice Department memos related to the torture policy which you can read at the ACLU site. All memos are worth reading but if you must read just one excerpt, as Glenn Greenwald says, it should be this one from the May 10, 2005 memo by Steven Bradbury, Acting Assistant Attorney General, OLC, to John A. Rizzo, General Counsel CIA:
State Department Reports. Each year, in the State Department's Country Reports on Human Rights Practices, the United States condemns coercive interrogation techniques and other practices employed by other countries. Certain of the techniques the United States has condemned appear to bear some resemblance to some of the CIA interrogation techniques. In their discussion of Indonesia, for example, the reports lists as "[p]sychological torture" conduct that involves "food and sleep deprivation," but give no specific information as to what these techniques involve. In their discussion of Egypt, the reports list as "methods of torture" "stripping and blindfolding victims; suspending victims from a ceiling or doorframe with feet just touching the floor; beating victims [with various objects]; … and dousing vitims with cold water." See also, e.g., Algeria (describing the "chiffon" method, which involves "placing a rag drenched in dirty water in someone's mouth"); Iran (counting sleep deprivation as either torture or severe prisoner abuse); Syria (discussing sleep deprivation and "having cold water thrown on" detainees as either torture or "ill-treatment). The State Department's inclusion of nudity, water dousing, sleep deprivation, and food deprivation among the conduct it condemns is significant and provides some indication of an executive foreign relations tradition condemning the use of these techniques.

[…]

A United States foreign relations tradition of condemning torture, the indiscriminate use of force, the use of force against the government's political opponents, or the use of force to obtain confessions in ordinary criminal cases says little about the propriety of the CIA's interrogation practices. The CIA's careful screening procedures are designed to ensure that enhanced techniques are used in the relatively few interrogations of terrorists who are believed to possess vital, actionable intelligence that might avert an attack against the United States or its interests. The CIA uses enhanced techniques only to the extent reasonably believed necessary to obtain information and takes great care to avoid inflicting severe pain or suffering or any lasting or unnecesary harm. In short, the CA program is designed to subject detainees to no more duress than is justified by the Government's interest in protecting the United States from further terrorist attacks. In these essential respects, it differs from the conduct condemned in the State Department reports.
In other words, it's not torture when we do the same things that we condemn as torture when done by others.
There was also an International Committee of the Red Cross Report on torture that came out recently, some excerpts of which are given here and some analysis is here.
If you are interested in my blog posts on torture, here they are:
In addition, I have been collecting links to stories, memos and reports about torture (and other topics) in my Browsing list, recent entries of which are shown on the sidebar on the main page. Let's collect those links (that are not dead) here as well.
Oh I forgot to rate the documentary. It's a must-see, so 10/10.
Related Reading
It was heartening to hear the following from Senator McCain at the first debate especially after his support for allowing the CIA to use torture during interrogations.
I have opposed the president on spending, on climate change, on torture of prisoner, on – on Guantanamo Bay. […] And we've got to — to make sure that we have people who are trained interrogators so that we don't ever torture a prisoner ever again.
And Obama said:
And this is the greatest country on Earth. But because of some of the mistakes that have been made — and I give Senator McCain great credit on the torture issue, for having identified that as something that undermines our long-term security — because of those things, we, I think, are going to have a lot of work to do in the next administration to restore that sense that America is that shining beacon on a hill.
To my utter dismay, torture hasn't become an issue in the US election. Today I want to focus on how popular or unpopular torture has been among the people of the United States and the world, which explains why Senator Obama hasn't brought up the use of torture by the Bush administration more often and why Senator McCain has been sliding away from his opposition to torture.
Here is a poll from May 2004.
Given pro and con arguments, 63 percent in an ABC News/Washington Post poll say torture is never acceptable, even when other methods fail and authorities believe the suspect has information that could prevent terrorist attacks. Thirty-five percent say torture is acceptable in some such cases.

There's more of a division, though, on physical abuse that falls short of torture: Forty-six percent say it's acceptable in some cases, while 52 percent say not.

Majorities identify three specific coercive practices as acceptable: sleep deprivation (66 percent call it acceptable), hooding (57 percent) and "noise bombing" (54 percent), in which a suspect is subjected to loud noises for long periods.

Far fewer Americans accept other practices. Four in 10 call it acceptable to threaten to shoot a suspect, or expose a suspect to extreme heat or cold. Punching or kicking is deemed acceptable by 29 percent. And 16 percent call sexual humiliation — alleged to have occurred at the Abu Ghraib prison in Baghdad — acceptable in some cases.

[…] Whatever their personal tolerance for various practices, 51 percent of Americans believe the U.S. government is employing torture "as a matter of policy" as part of the war against terrorism. And two-thirds think the government is using physical abuse that stops short of torture.

[…] Regarding the Abu Ghraib case, which has resulted in charges against some U.S. soldiers and calls for congressional investigations, the public is twice as likely to see what occurred there as abuse (60 percent) rather than torture (29 percent).
In December 2005, an opinion poll tried to measure attitudes to torture around the world.
In America, 61 percent of those surveyed agreed torture is justified at least on rare occasions. Almost nine in 10 in South Korea and just over half in France and Britain felt that way.

[…] In Canada, Mexico and Germany people are divided on whether torture is ever justified. Most people opposed torture under any circumstances in Spain and Italy.
A Harris Poll in December 2005 makes the American populace look quite pro-torture.
55 percent of all adults believe that rendition is justified either often (14%) or sometimes (41%), when interrogating suspected terrorists. 60 percent of adults believe that the use of "secret prison camps in Europe or elsewhere" is justified either often (14%) or sometimes (46%). 52 percent of all adults believe that the use of torture is justified either often (12%) or sometimes (40%).

82 percent of all adults believe that the U.S. uses rendition, as defined above, often (25%) or sometimes (58%). 81 percent believes that the U.S. uses secret prison camps outside the country often (23 ) or sometimes (58). 83 percent believe that the U.S. uses torture often (17%) or sometimes (66%).
At least it seems that the public doesn't take Bush's statements about "we do not torture" at face value.
A BBC Global Poll in October 2006 found that majorities in 19 countries are in favor of clear rules against torture. In order of decreasing popularity, those countries are Italy, France, Australia, Canada, Britain, Germany, South Korea, Spain, Egypt, Turkey, Poland, Chile, Brazil, United States, Philippines, Iraq, Ukraine, Kenya, Indonesia. Note the position of the United States in that list; it's near the bottom with developing countries. torture is more popular here than in most of the developed world.
There are some uncivilized countries where there is no clear majority for or against torture: Israel (43-48), Nigeria (39-49), Russia (37-43), China (37-49), India (32-23), and Mexico (24-50).
According to a CNN poll of the US in November 2007,
Asked whether they think waterboarding is a form of torture, more than two-thirds of respondents, or 69 percent, said yes; 29 percent said no.

Asked whether they think the U.S. government should be allowed to use the procedure to try to get information from suspected terrorists, 58 percent said no; 40 percent said yes.

In the procedure, water is used on restrained prisoners to make them feel like they are drowning.
A World Public Opinion Poll in June 2008 found that:
A WorldPublicOpinion.org poll of 19 nations finds that in 14 of them most people favor an unequivocal rule against torture, even in the case of terrorists who have information that could save innocent lives. Four nations lean toward favoring an exception in the case of terrorists.

However, large majorities in all 19 nations favor a general prohibition against torture. In all nations polled, the number saying that the government should generally be able to use torture is less than one in five.

On average across all nations polled, 57 percent opt for unequivocal rules against torture. Thirty-five percent favor an exception when innocent lives are at risk. Just 9 percent favor the government being able to use torture in general.

The four publics that favor an exception for terrorists when innocent lives are at risk include majorities in India (59%), Nigeria (54%), and Turkey (51%), and a plurality in Thailand (44%).

Support for the unequivocal position was highest in Spain (82%), Great Britain (82%) and France (82%), followed by Mexico (73%), China (66%), the Palestinian territories (66%), Poland (62%), Indonesia (61%), and the Ukraine (59%). In five countries either modest majorities or pluralities support a ban on all torture: Azerbaijan (54%), Egypt (54%), the United States (53%), Russia (49%), and Iran (43%). South Koreans are divided.
Again, notice where US public opinion lies. Near Russia, Egypt and Azerbaijan! Is that what we aspire to be? As Andrew Sullivan said:
So America's peers in the fight against torture, in terms of public opinion are Azerbaijan, Egypt, Russia, and Iran. This is what America now is: a country with the moral values of countries that routinely torture and abuse prisoners, like Egypt and Iran. Even the Chinese, living in a neo-fascist market state, oppose torture in all circumstances by 66 percent, compared to Americans where only 53 percent do! More horrifying: a higher percentage of Americans – 13 percent – believe that torture should generally be allowed than in any other country save China, Turkey and Nigeria. And in the last two years, as the American president celebrates and authorizes the torture of people who have not been allowed a fair trail, support for torturing terror suspects has increased from 36 percent to 44 percent.
Why are so many Americans morally bankrupt about torture now? It turns out it might be the fault of the religious, or more specifically the Southern Evangelicals.
A new poll released Thursday (Sept. 11) finds that nearly six in 10 white Southern evangelicals believe torture is justified, but their views can shift when they consider the Christian principle of the golden rule.

The poll, commissioned by Faith in Public Life and Mercer University, found that 57 percent of respondents said torture can be often or sometimes justified to gain important information from suspected terrorists. Thirty-eight percent said it was never or rarely justified.

But when asked if they agree that "the U.S. government should not use methods against our enemies that we would not want used on American soldiers," the percentage who said torture was rarely or never justified rose to 52 percent.

[…] The findings of this poll, which did not define torture, compared to a Pew Research Center poll from February that found that 48 percent of the general public think torture can be justified.

The new poll found that 44 percent of white Southern evangelicals rely on life experiences and common sense to determine their views about torture. A lower percentage, 28 percent, said they relied on Christian teachings or beliefs.

[…] Pollsters also found that 53 percent of white Southern evangelicals believe the government uses torture in its anti-terrorism campaign, despite claims by government officials to the contrary. About one-third, or 32 percent, said the government does not use torture as a matter of policy.
Wow, so a majority of white Southern evangelicals are not only pro-torture, but they do not rely on Christian teachings either. Who would have thought they would be so immoral?
Related Reading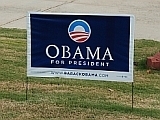 I have had an Obama yard sign in my front yard since the Democratic convention.
Today I got a letter from my Home Owners Association (HOA) which says:
According to the Covenants, signs are not allowed to be displayed. Please remove the election sign.
So I checked the Covenants and found the following:
No sign of any kind shall be erected by an Owner or Occupant within the Community without the prior written consent of the Architectural Review Committee. Notwithstanding the foregoing, the Board and the Declarant shall have the right to erect reasonable and appropriate signs. "For Sale" and "For Rent" signs and security signs consistent with the Community-Wide Standard and any signs required by legal proceedings may be erected upon any Lot.
It looks like they have the right to erect "reasonable and appropriate" signs. I would like a similar right on reciprocal basis since I would guess that a 16" by 26" sign for a major party Presidential candidate during election season is both appropriate and reasonable. But evidently the management company that runs the HOA disagrees.
I am of a mind to send a letter to the Home Owners Association:
I did not know that the Soviet Union was alive and well here in our subdivision. I had heard of its demise some years ago. Anyway, if I am not allowed to display a political sign for the elections, please grant me permission to fly the Hammer and Sickle on the front of my house.
On a more serious note, does anyone know if there are any local (Fulton county), state (Georgia) or Federal laws which the HOA might be going against here? What is the case law like on this issue here?
I had no idea about Home Owner Associations before we bought a house last year. My first interaction with the HOA was earlier this year when we decided to do some work on part of our backyard. We wanted to install a playset and a small vegetable garden as well as grow flowering plants and grass in a part of the backyard which had nothing. This required approval by the Architectural Review Committee of the HOA and I being a law-abiding fellow submitted the application despite protests by Amber about this being our property and hence we being free to do whatever we wanted.
It took the committee 10 days to approve the project. When I talked to the head of the committee, I voiced my disapproval at the length of time they had taken to do so. He pointed out that the Covenants allowed the committee to take as many as 60 days and that the committee members had lives of their own and were doing this only as part-time volunteers. I replied that that was precisely the point, since their time (and mine) was so precious, so project approval should be almost automatic. If they didn't see any egregious violation at first glance, they should approve it. I don't think he got what I was trying to say.
To reiterate, what do you know of Georgia law on political signs and HOA covenants? What do you think I should do and why? Should I simply remove the sign? Should I keep it? In that case, what'll happen and is it worth fighting for?
Related Reading
Extraordinary Rendition is defined as:
the extrajudicial transfer of an individual to a country where there is reasonable probability he will be tortured.
Mother Jones (hat tip: Desi Italiana) recounts the renditions carried out by the United States, including those before the September 11, 2001 terrorist attacks.
In our research we have counted 67 known cases of extraordinary rendition by the United States since 1995. While the details are often incomplete, they help paint a more complete picture of this secretive and controversial Central Intelligence Agency program.

[…] Then-CIA director George Tenet testified before the 9/11 Commission that there were more than 80 renditions before September 11, 2001. We found information on 29 cases of extraordinary and ordinary rendition prior to 9/11. Of the 14 that qualify as extraordinary renditions, 12 were to Egypt.

[…] We found information on 117 renditions that have occurred since September 11, 2001. When we excluded renditions to Afghanistan, CIA secret prisons (or "black sites"), Guantanamo, or American custody, we found 53 cases of extraordinary rendition. All individuals for whom the rendition destination is known were sent to countries that have been criticized by the State Department's annual Country Reports on Human Rights Practices, which document "torture or other cruel, inhuman or degrading treatment or punishment."

Of these 53 prisoners, more than one quarter have explicitly claimed that they were tortured while in foreign custody; four claim they were tortured while passing through American custody either en route to or following foreign custody. Four others may have been tortured while in foreign custody based on secondhand accounts or vague descriptions of treatment in prisons in their destination countries. Sixteen of the 53 individuals have been released after extraordinary renditions, and half of them claimed they were tortured while in foreign custody; two claim they were tortured while in American custody.
These renditions, which started in the Clinton era, resulted in torture by states that were well-known to use torture in their interrogations.
For hours, the words come pouring out of Abu Omar as he describes his years of torture at the hands of Egypt's security services. Spreading his arms in a crucifixion position, he demonstrates how he was tied to a metal door as shocks were administered to his nipples and genitals. His legs tremble as he describes how he was twice raped. He mentions, almost casually, the hearing loss in his left ear from the beatings, and how he still wakes up at night screaming, takes tranquilizers, finds it hard to concentrate, and has unspecified "problems with my wife at home." He is, in short, a broken man.
Torture is not just something we have outsourced to countries like Egypt. Instead, after the September 11 attacks, the Bush administration has issued legal opinions declaring torture okay. John Yoo of the Office of Legal Counsel wrote a memo in August 2002 and another one in March 2003, basically declaring an imperial Presidency that had the power to declare torture legal if it felt like it.
Torture was discussed and approved at the highest levels of the government.
In dozens of top-secret talks and meetings in the White House, the most senior Bush administration officials discussed and approved specific details of how high-value al Qaeda suspects would be interrogated by the Central Intelligence Agency, sources tell ABC News.

[…] The high-level discussions about these "enhanced interrogation techniques" were so detailed, these sources said, some of the interrogation sessions were almost choreographed — down to the number of times CIA agents could use a specific tactic.

The advisers were members of the National Security Council's Principals Committee, a select group of senior officials who met frequently to advise President Bush on issues of national security policy.

At the time, the Principals Committee included Vice President Cheney, former National Security Advisor Condoleezza Rice, Defense Secretary Donald Rumsfeld and Secretary of State Colin Powell, as well as CIA Director George Tenet and Attorney General John Ashcroft.

As the national security adviser, Rice chaired the meetings, which took place in the White House Situation Room and were typically attended by most of the principals or their deputies.
And Bush approved of these torture policies.
In a stunning admission to ABC news Friday night, President Bush declared that he knew his top national security advisers discussed and approved specific details of the CIA's use of torture. Bush reportedly told ABC, "I'm aware our national security team met on this issue. And I approved." Bush also defended the use of waterboarding.
ACLU suggests that we should demand accountability from Congress and I urge you to send a letter to your Congressman right now.
The Bush administration is still using the euphemism of "enhanced interrogation techniques" for torture and claiming that the CIA is allowed to use these methods.
The Justice Department has told Congress that American intelligence operatives attempting to thwart terrorist attacks can legally use interrogation methods that might otherwise be prohibited under international law.

The legal interpretation, outlined in recent letters, sheds new light on the still-secret rules for interrogations by the Central Intelligence Agency. It shows that the administration is arguing that the boundaries for interrogations should be subject to some latitude, even under an executive order issued last summer that President Bush said meant that the C.I.A. would comply with international strictures against harsh treatment of detainees.

While the Geneva Conventions prohibit "outrages upon personal dignity," a letter sent by the Justice Department to Congress on March 5 makes clear that the administration has not drawn a precise line in deciding which interrogation methods would violate that standard, and is reserving the right to make case-by-case judgments.

"The fact that an act is undertaken to prevent a threatened terrorist attack, rather than for the purpose of humiliation or abuse, would be relevant to a reasonable observer in measuring the outrageousness of the act," said Brian A. Benczkowski, a deputy assistant attorney general, in the letter, which had not previously been made public.
The rot in the state is widespread. Supreme Court Justice Antonin Scalia likes to excuse torture for the purpose of thwarting terrorist attacks and Republican Presidential candidate Senator John McCain, while an opponent of tortute, voted against prohibiting torture by the CIA, despite the fact that he was tortured by using stress positions by the North Vietnamese when he was a prisoner of war.
May be Congress can get the 7,000 documents relating to torture and rendition that the CIA is unwilling to release and make them public and the next administration can untie the hands of the FBI and get it to investigate these abuses.
Related Reading
Laws giving more power of surveillance to the state are often justified in terms of their use against terrorists, pedophiles and other such criminals, but such laws can and will be used for such purposes as finding deadbeat dads or even checking if families reside in a specific school district.
A council has admitted spying on a family using laws to track criminals and terrorists to find out if they were really living in a school catchment.

A couple and their three children were put under surveillance without their knowledge by Poole Borough Council for more than two weeks.

The council admitted using powers under the Regulation of Investigatory Powers Act (RIPA) on six occasions in total.

Three of those were for suspected fraudulent school place applications.

It said two offers of school places were withdrawn as a consequence.

[…] RIPA legislation allows councils to carry out surveillance if it suspects criminal activity.

On its website, the Home Office says: "The Regulation of Investigatory Powers Act (RIPA) legislates for using methods of surveillance and information gathering to help the prevention of crime, including terrorism."

It goes on to say the act allows the interception of communications, carrying out of surveillance and the use of covert human intelligence sources.

Poole council said it used the legislation to watch a family at home and in their daily movements because it wanted to know if they lived in the catchment area for a school, which they wanted their three-year-old daughter to attend.
Also, in the past, these kind of laws have been used against political opponents, as the Church Committee reports show. It is quite probable that they will be used similarly again.
Related Reading
Rendition is about an Egyptian American who is sent to a North African country as he is suspected of having some connection with a terrorist. There of course he is tortured. This process of handing out suspects to other countries to be tortured is known as extraordinary rendition.
The impressive parts of the movie are what happens in North Africa. The torture scenes are not easy to watch but affect you a lot. Also, the subplot about the daughter of the local law enforcement guy overseeing the torture is also very interesting.
On the other hand, the acting of Meryl Streep, who is a great actress, and Reese Witherspoon did not impress me much.
Overall, I rate the movie 8/10.
And finally a question: Considering that the United States has (indirectly) tortured innocent people via extraordinary rendition (for example, Maher Arar), do you worry something like this could happen to you or your loved ones? Also, please note that extraordinary rendition did not start with the war on terror. Instead, it dates from the war on drugs as Jonathan Edelstein shows in a great blog post.
Related Reading