Some time during my move, this weblog crossed the 200,000 visit mark. It took about 23 months since I made the blog public. The second 100,000 mark took only 6 months compared to 17 months for the first.
My traffic is up after being down a bit during the summer. I also seem to have gotten a jump in traffic this week due to the election since I am getting about 200 more visitors per day than the usual.
October was the highest traffic month with more than 22,000 visitors doubling the traffic from a year ago. The bandwidth usage for my domain (most of it for the weblog) is now around 2.5 GB/month.
Top 20 search queries for October 2004:
procrastination
arranged marriages
level 2 ultrasound
pregnancy pics
harun yahya
arranged marriage
gays sex
mexican immigration
democrat vs republican
political contributions
spring break movies
darfur sudan
julius caeser
political surveys
spring break girls
facial expression
personality quiz
kashmir photos
urdu fonts
urdu
Here is a world map with the countries I have had visitors from shown in red.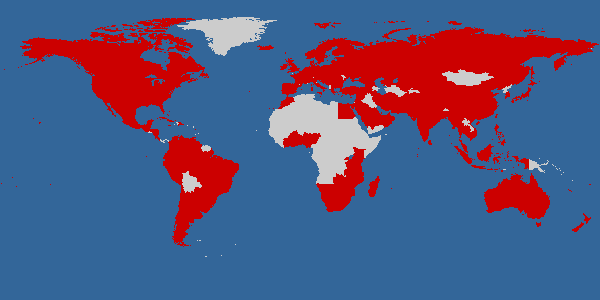 create your own visited country map
The list of 140 countries follows: