I blogged some time ago on last year's global attitudes survey here. Now, they have a new survey out (full report here, summary here).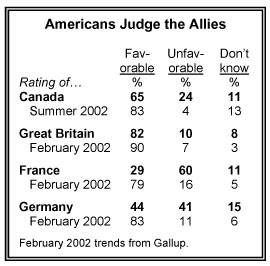 It seems that the trust between US and Europe has gone down as a result of the disagreement over the Iraq war. The view of the US is now less favorable, though it has recovered from the lows just before the start of the war. Similarly, Americans view France and Germany unfavorably now. That is a huge change from a year ago. In fact, more Americans are boycotting or thinking of boycotting French and German goods than French and Germans doing the same for American goods.
I don't know how this mistrust will pan out and what the long-term consequences will be, but even Muslim countries which had favorable opinions of the US last year have changed. Indonesia is a good example.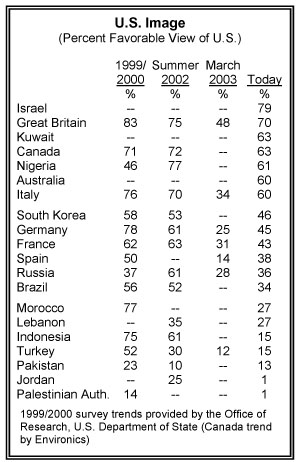 An interesting feature of globalization is the widespread use of the English language (as discussed here). It seems that lots of people realize that now. According to the survey, "three-quarters or more of those interviewed in almost every country think children need to learn English to succeed in the world today."
One strange thing I found in the poll results was the number of people who still think about territorial disputes.
There are still sizable minorities of people in US [32%], Great Britain, France [25%], Germany [33%] and Italy [42%] who think that there are parts of other countries that really belong to them. […] Fully 63% of Russians believe that "there are parts of neighboring countries that really belong to Russia." […] Broad majorities in the Philippines [79%], India [73%], Lebanon [71%], South Africa, Pakistan [67%], Nigeria, South Korea [63%] and Turkey also feel that parts of other nations rightfully belong to their country.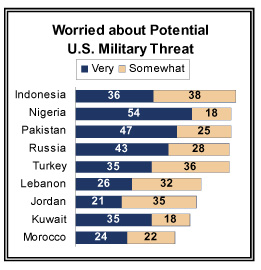 Which country do the US, Britain, Italy and Turkey have claims on? I thought Turkey renounced all its Ottoman holdings.
They also have an interesting measure for nationalism. Can't say I disagree much though.
Large majorities in several countries affirm each of these sentiments —- they believe their culture is superior, that it needs defending, and that other lands are rightfully theirs. People in India, for example, are among the most likely to agree with all three statements. Turks, Bangladeshis, South Africans and Pakistanis also rank relatively high on all three measures. By contrast, the British, French and German people express far less nationalism, based on these questions.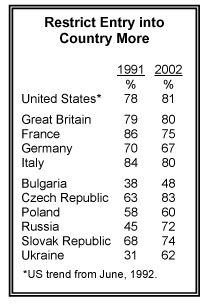 The US scores on Latin American levels for the superiority and defense questions, i.e. higher than most Europeans and less than those paragons of nationalism listed above. This is significant because the US has somewhat similar level of religiousness. Unlike western Europeans, Americans generally condition morality on a belief in God. They are however much better in this regard than most of the Muslim world where atheism is a dirty word.
Also, more Americans think that their way of life needs to be protected against foreign influence than Canadians, French, Germans or British.
It's a bad time for immigrants. Support for immigration is down everywhere. However, Bulgarians don't want to restrict entry more than their current laws. Anyone want to go to Bulgaria? Also, "only in Canada does a strong majority of the population (77%) have a positive view of immigrants. Among other advanced countries, Americans show the greatest support for immigrants (49%)."
There are some interesting results related to the Iraq war.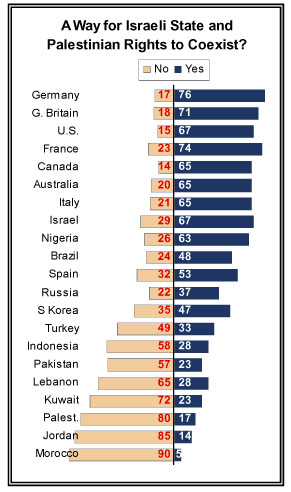 Countries that in which a majority thinks Iraqis will be worse off without Saddam include: Morocco (53%), Pakistan (60%), Indonesia (67%), Jordan (80%) and Palestinian Authority (85%). What are they smoking? For God's sake, read Salam Pax.
What I found more interesting was the fact that the reconstruction efforts got poor ratings from almost everybody.
Roughly half of Australians (53%) and British (50%) say the U.S. and its allies are doing only a fair or poor job in addressing the interests of the Iraqi people. Views of the reconstruction effort are even more negative elsewhere. Majorities in Western Europe, Russia, South Korea and most Muslim publics give the allies a rating of fair or poor for taking into account the needs of the Iraqi people as they rebuild the country. That is the case as well in Israel (60% fair/poor).
I can understand this in the countries where the public opinion was against the war. But Israel? I thought they had overwhelming support for the war. The only one besides the US actually. So why do they think the reconstruction is going poorly?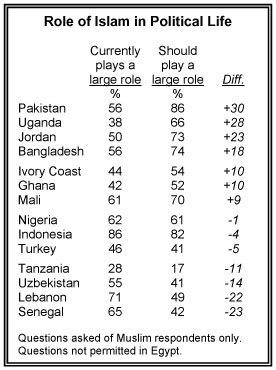 The poll results on the Israel/Palestine problem are a disaster. The bad news: A majority in all Muslim countries except Nigeria (which is about 50% Muslim) thinks that there is no way to reconcile an Israeli state with Palestinian rights. The good news: Israeli Arabs think differently.
Arabs in Israel, who voice the same criticisms of U.S. policy in the Middle East as do other Muslims, generally believe that a way can be found for the state of Israel to exist so that Palestinian rights and needs are addressed. In fact, Arabs in Israel are nearly as likely as Jews to hold that opinion (62% of Arabs, 68% of Jews).
I guess living in the same country has actually worked to some extent. There is obviously mistrust between Jews and Arabs in Israel and discrimination as well. The Israeli Arabs have sympathy for the Palestinians, but they do seem to have developed into a separate group.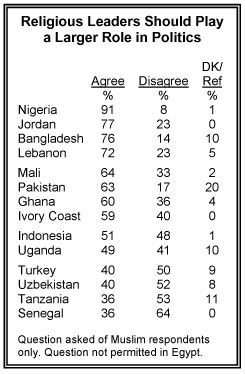 It also seems that calls for secularism in Muslim countries are premature. People in most countries want a role for religion in political life. That, however, is a different question than whether religious leaders should play a larger role in political life. For example, 56% of Pakistanis think that Islam plays a large role in politics now and 86% actually want a larger role. However, only 63% want religious leaders to play a larger role. So 23% want religion but no religious leaders in politics.
Despite the increase of religion in politics, the commitment to democracy has improved. In fact, religious leaders and followers are turning to democracy and elections to win support for their program.
In most countries, supporters of an active role for Islam are no more or less committed to these democratic ideals [of electoral competition and freedom of expression], and in a few predominantly Muslim nations, notably Bangladesh and Pakistan, those who are most supportive of a role for Islam in public life and politics are also the most supportive of freedom of speech and electoral competition.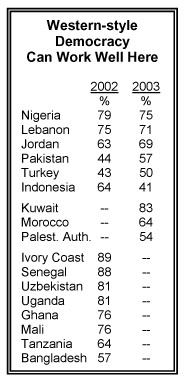 The Iraq war has also spawned some, though minor, hopes of democratic blooming in the Muslim world. May be the neocon dream (and nightmare) will come true in the form of democracy with ascendent Islamic parties.
Substantial minorities of Muslims in many countries say the region will become somewhat more democratic, but only in Kuwait do as many as half predict the Middle East will become much more democratic. Expectations of major political changes in the Middle East are modest in countries that participated in the war. Just 16% in Great Britain, 14% in the U.S. and 10% in Australia think that the Middle East will become much more democratic.
The poll results for social issues are also interesting. Birth control, it seems, has become popular in most of the Muslim countries covered in the survey.
Globally, people have a broadly favorable view of birth control and family planning, with the notable exception of populations in aging industrial nations, such as Italy, Japan and Germany. […] In most of the developing nations of Africa and Asia, 70% or more say birth control and family planning have changed things for the better.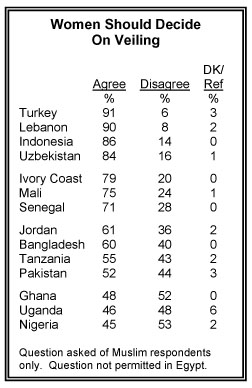 However, there are still issues about women working in Jordan and Pakistan.
Pakistan, Egypt and Jordan are the only countries in which majorities believe it is better for women to stay home and take care of the children while the husband provides for the family. In Pakistan, 41% of women strongly agree that they should be allowed to work compared with 24% of men.
The chart on whether women themselves should decide whether to wear a veil is shown on the right. In Turkey where wearing the veil in government offices etc. is banned, there is widespread support for the decision to be given to women. Pakistan is almost equally divided on the issue. Do 44% of Pakistanis really want to force women to wear the veil in Pakistan?
POSTSCRIPT: CalPundit has discussed this survey as well.