As we are looking for a car, we went test driving last weekend.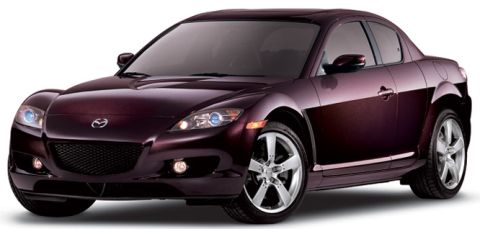 The Mazda RX-8 is a very interesting car. The rotary engine definitely appeals to an engineering nerd like me. But at the same time, I realize that it is the only car using that engine and that could be a negative.
Mazda RX-8 is a nice looking car but sometimes it reminds me too much of Mazda6 and Miata, both of which I am not fond of. Among the available colors, the Black Cherry of the Shinka edition definitely stands out.
When the RX-8 first came out, I thought the reverse-opening rear doors were just a gimmick, but when we checked out the car last weekend, they turned out to be very useful. They will definitely help a lot in taking Michelle's car seat in and out as well as getting Michelle into the car.
In terms of price, the base price of the RX-8 is very reasonable. However, that doesn't include much in terms of comfort and the optional packages are expensive. Add leather seats, sunroof and a few other things and the price climbs quite a lot.
Speaking of the sunroof, it reduces the head room which is normal, but that reduction means my head touches the roof of the car. Now I am not a tall person (6 feet or 1.83m), so I didn't expect that. It's not a complete deal breaker as I could recline the seat a bit more than my usual position and that would work, but it's definitely a negative for me.
We took Michelle's car seat with us when we test drove the RX-8. When the infant car seat is in the rear facing position in the back, the front passenger seat has to be moved quite forward. I can definitely not fit in there, but Amber wasn't too comfortable either.
During the test drive, the ride was smooth and changing gears was easy. I hadn't driven a stick-shift in more than 2 years, but I found the stick to be simple and smooth. One downside of the car is that it is a high-rpm engine, so there is not a whole lot of power at low rpms. It does, however, accelerate quite nicely in the 3rd gear.
While the fuel economy of RX-8 is rated by EPA at 18/24 (city/highway) miles per gallon, which is not much lower than 19/26 for Infiniti G35, I have heard that the RX-8 gets poor gas mileage.
Overall, RX-8 is a nice sports car at a decent price. I like it reasonably well but I am not wowed by it. We'll have to check out Infiniti G35 to make a decision.
You can also read Edmunds' road tests.