Continuing with our car search, we checked out the Infiniti G35 Coupe.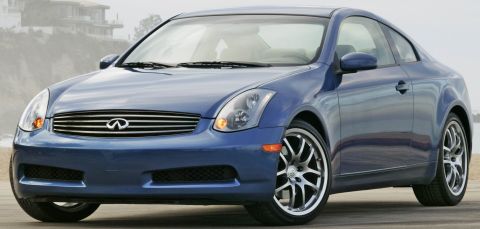 Here are some pertinent facts:
| | | |
| --- | --- | --- |
| Power | 298 hp | 222 kW |
| Torque | 260 lb-ft | 353 N-m |
| Curb Weight to Power Ratio | 11.79 lb/hp | 7.17 kg/kW |
First of all, the G35 Coupe has great looks. It looks similar to the Nissan 350Z and that is why I prefer the coupe over the sedan. It is also roomier than the RX-8 and has more of a luxury feeling. The back seats have more room in all dimensions except for the head due to the curving roof of the car. However, if instead of sitting erect, I slid down a little, I was quite comfortable in the back seat of a G35.
We test drove the 6-speed manual transmission and my impressions are from that car.
As you can see above, there is no lack of power in a G35 and there is lots of it at all engine speeds. It also sounds great when you accelerate. The ride is a little stiffer than RX-8 but still not uncomfortable. It does feel a bit less nimble in its handling than some smaller sports cars but that is ok considering its size and weight.
The stick-shift G35 comes with Y-rated 19 inch summer tires. This might not be a problem in Atlanta, but if we move somewhere where it snows, we will need to get snow tires for the winter which would cost a bunch of money.
Overall, the G35 feels really good. It is a good compromise between comfort, luxury and performance.
See also Edmunds' road tests of the G35 Coupe.