Unqualified Offerings had a recent post which got me thinking about my running effort.
First of all, a confession: I haven't been running for a couple of months now. One reason is the hot, muggy weather here. Plus I was getting stuck and not making much progress lately. The initial few months were good. I lost all the weight I needed to lose and got my resting heart rate close to 50 beats per minute as well.
However, my running distance as well as speed were not improving much after that. From Jim's fitness blogging, I think I see why. My heart rate during running has been too high which means that I haven't been building as much endurance as I should and I tire after running for short distances (3 miles or so).
Looking at the different methods to calculate target heart rates, I get the following results:
220-Age method gives a 65—85% rate of 120.9—158.1 bpm. The middle point of 75% is 139.5 beats per minute.
The heart rate reserve method gives a 60—80% rate of 132.4—159.2 bpm with a middle point of 145.8.
The Maffetone method gives a target heart rate of 141 bpm.
I knew that I was running at a much higher heart rate than 140—145. To quantify, I made heart rate measurements every 20 seconds with my heart rate monitor during a running/walking session.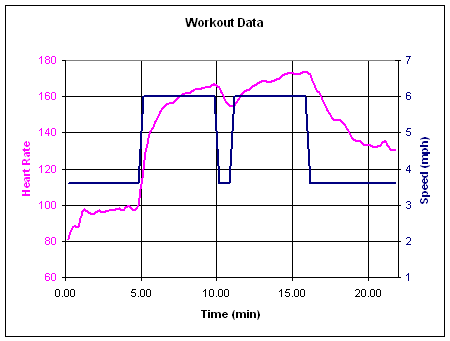 As you can see, a couple of minutes after I start running, my heart rate crosses 160 bpm and then stays above that unless I stop running (and start walking).
Reading the information provided by Unqualified Offerings, it looks like I am expending too much effort and hence not reaping the benefits of increased endurance. I also realized that the running program I am following says to run at "conversation effort."
Therefore, I have decided to actually reduce the intensity of my workout by following the Couch-to-5K running plan. Week 1 and Week 2 on that plan have been very easy and I haven't felt tired after the run/walk. Let's see if this new plan works better in building endurance than my previous efforts.