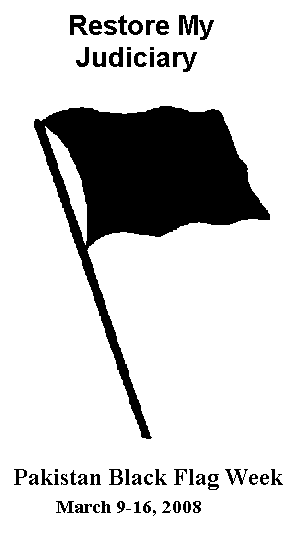 Aitzaz Ahsan, President of the Supreme Court Bar Association, has called for a black flag week for this week, March 9-16, to protest the suspension of the Chief Justice last year on March 9 and then the dismissal of the superior judiciary in Musharraf's November 2007 martial law.
The rule of law is a very important thing in any country and an independent judiciary is an essential part of that. This is what Musharraf has tried to destroy and the lawyers have been protesting. We should support the lawyers movement and this Black Flag Week is part of that support. So I urge you to attend Black Flag Week events or at least wear black armband or put a black flag or ribbon etc on your website/blog.
BTW, Teeth Maestro has good coverage of this week.
Here's Aitzaz Ahsan's call for Black Flag Week.