Current census figures1 for religious affiliation in Kashmir according to the BBC are:
Religious groups: Indian-administered Kashmir
Region
Buddhist
Hindu
Muslim
Other
Kashmir Valley
–
4%
95%
–
Jammu
–
66%
30%
4%
Ladakh
50%
–
46%
3%
Religious groups: Pakistani-administered Kashmir
Region
Buddhist
Hindu
Muslim
Other
Northern Areas
–
–
99%
–
Azad Jammu and Kashmir
–
–
99%
–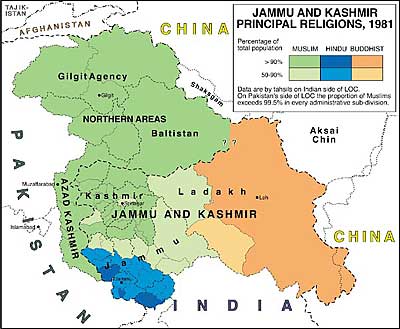 Courtesy of the Kashmir Study Group.
Also see here for more information.
Most of the Muslims in the Kashmir valley, Jammu province and Azad Kashmir are Sunnis. Shias, mainly Nizari Ismailis, dominate in the Northern Areas. Ladakh also has a large number of Shias.
Muslims are a majority in the Kargil district of Ladakh while Buddhists dominate in the Leh district. There are also some Sikhs, mostly in Jammu.
Overall, according to the 1981 census, Muslims are 74.9% of the population of Kashmir, followed by Hindus (22.6%) and Buddhists (0.8%).
According to the 1941 census2, the percentage of Muslim population in the districts of Kashmir was as follows:
District
Muslim
Controlled by
Gilgit Agency
99.99%
Pakistan
Gilgit Wazarat
100.00%
Pakistan
Ladakh
79.00%
India
Baramula
96.49%
India
Muzaffarabad
92.89%
Pakistan
Punch
90.97%
Pakistan
Srinagar
91.55%
India
Mirpur
80.41%
Pakistan
Riasi
54.79%
India
Udhampur
43.15%
India
Jammu
39.00%
India
Kathua
25.45%
India

TOTAL

77.11%
The "controlled by" data in the above table is based on who controls more of the district as some districts are divided by the Line of Control. For example, more than half of the Punch district is controlled by Pakistan but the town of Punch is on the Indian side of the line of control.
1 It is not clear which census results they are using. For India, the religious data for the 2001 census has not been released yet and it seems that the 1991 census was not conducted in Indian Kashmir due to "disturbed conditions". Pakistan's Population Census Organization does not have data for Northern areas or Azad Jammu and Kashmir in their online 1998 census tables.
2 My source for this is a map of Jammu and Kashmir state and Gilgit agency published by Information Division, Embassy of Pakistan, Washington D.C. in 1963 (found in my school library). I have checked a few figures online and they seem to be correct. If you have a better source for the 1941 census data online, please let me know.