At the Atlanta airport, we tried to checkin on the e-ticket kiosk, but it demanded to scan our passports since we were going out of country. Our passports are not machine-readable, so we had to go to the airline counter. Strangely, the agent did not even look at our passports. Now this might not be as bad as this sounds as our IDs were checked by security in Atlanta (more on that later) and passports at the gate when we boarded the plane in Detroit later.
Also, our daughter's passport was never checked in the US. The only time it was checked was by the Canadian immigration/Customs. With all the hoopla in the US about one parent abducting the child from the other and leaving the country, this was a bit strange.
Another useless security requirement is that after you check in, you have to take your luggage to be scanned. But there is no point to it since you give your checked-in baggage to the TSA and leave. So why can't the airlines do it themselves? All this useless effort on the part of the passenger reminds me of Pakistani airports where one has to get everything checked three times.
When we went through security, the security officer had trouble finding our boarding passes. She finally found one inside the airline flap jacket and so let us through. However, I got suspicious since we were supposed to have 4—6 boarding passes (1 each for the 2 legs of our journey and I wasn't sure if Michelle needed a boarding pass or not). So we checked and we only had boarding passes for me. We doubled back to the airline counter and got boarding passes for Amber and Michelle. However, this shows the effort the security people are putting into their work.
When we landed in Ottawa and got out of the small plane (which had really cramped leg space), we realized we had to get out into the open and walk to the terminal gate which was close by. The weather was cold and we weren't carrying Michelle's jacket, so we covered her in her blanket and ran inside.
The immigration/Customs officer reminded me that all over the world immigration personnel have one major job requirement: they must not have a pleasant personality. If a smile escapes someone interviewing for such a position, he is immediately rejected. I haven't had any real bad experiences with immigration anywhere, but the immigration officer is always very serious and too business-like.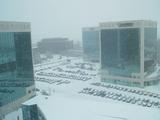 That was yesterday. Today, I am sititing in my hotel room looking at the snow falling outside. We are expecting 15—25 cm (6—10 in) of snow today. Since Michelle is still recovering from the travel yesterday and the weather is not good, I might stay in today. May be I'll go for a swim in the heated indoor pool or go do my regular Tuesday run in the fitness center. On the other hand, a massage at the hotel spa sounds enticing. The hotel is "very very nice" as a local put it.