یہ سال درجنوں کا سال ہے۔ ابھی پچھلے ہفتے ہم نے شادی کے 12 سال منائے تھے اور آج میری سالگرہ ہے۔ میری عمر اب تین درجن سال ہے۔ آج ہمارا سالگرہ گھر میں کیک کاٹ کر اور موم‌بتی بجھا کر منانے کا ہے کیونکہ مشیل ایک مہینے سے کیک اور موم‌بتی کے انتظار میں ہے۔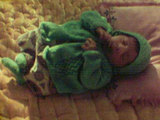 Last week we celebrated a dozen years of marriage and today is my 36th birthday.
This year we are going to celebrate at home with a cake. Michelle has been excited about my birthdya for some time now. She wants a cake and even more than that, she wants to "blow a wish" i.e. a candle. This year, Michelle has been very much into birthdays. She likes the ones of other kids at her preschool as well as the ones of our friends' kids. She was really happy about her own and has been mentioning her grandparents', Amber's and now mine for some time.