It was 5 years ago today that I made my first post on my blog which was then on Blogger. This post today is the 999th one I have made here and there have been 6,678 comments on these posts.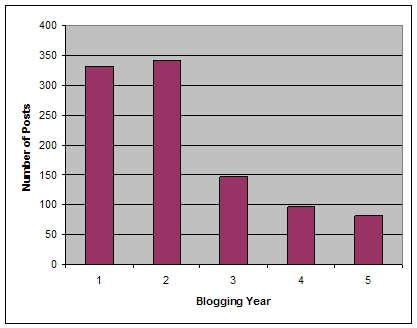 According to Sitemeter, there have been about 950,000 visits and 1,410,000 page views of my weblog.
Since I have had a Google Analytics account since April 2006, I have collected some decent statistics pertaining to my weblog. Here are some of them (I am using the whole period from April 2006 to now for these stats).
The web pages on my site that have gotten the most page views since April 2006 are as follows:
So it seems like category and monthly archives do not get many visits while most visitors coming from search engines land straight on an individual post page.
The percentage of visitors to my weblog who use different web browsers is as follows:
| | |
| --- | --- |
| Internet Explorer | 80.0% |
| Firefox | 15.4% |
| Safari | 2.3% |
| Opera | 1.2% |
The most popular search terms for getting to my blog are (in no particular order, since I combined similar queries):
urdu sex stories
arranged marriages
level 2 ultrasound
procrastination
firefox sucks
harun yahya
am i having a boy or girl
gays sex
crvo
asylum in canada
This list mostly disappointed me.
The top 10 countries from which my blog received visits are:
United States
Pakistan
United Kingdom
Canada
India
Australia
Iran
United Arab Emirates
Saudi Arabia
Germany
Here is a world map with the countries I have had visitors from shown in red.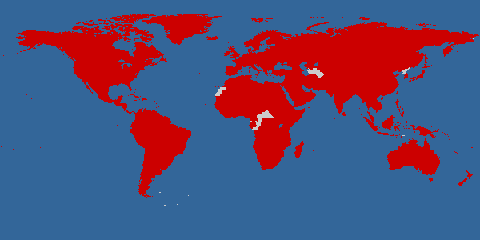 The list of more than 200 countries follows:
Afghanistan, Albania, Algeria, American Samoa, Andorra, Angola, Anguilla, Antigua and Barbuda, Argentina, Armenia, Aruba, Ascension Island, Australia, Austria, Azerbaijan, Bahamas, Bahrain, Bangladesh, Barbados, Belarus, Belgium, Belize, Benin, Bermuda, Bhutan, Bolivia, Bosnia-Herzegovina, Botswana, Brazil, British Virgin Islands, Brunei, Bulgaria, Burkina Faso, Burundi, Cambodia, Cameroon, Canada, Cape Verde, Cayman Islands, Chad, Chile, China, Christmas Island, Cocos (Keeling) Islands, Colombia, Democratic Republic of Congo, Costa Rica, Croatia, Cuba, Cyprus, Czech Republic, Denmark, Djibouti, Dominica, Dominican Republic, Ecuador, Egypt, El Salvador, Eritrea, Estonia, Ethiopia, Faroe Islands, Fiji, Finland, France, French Guiana, French Polynesia, Gabon, Gambia, Georgia, Germany, Ghana, Gibraltar, Greece, Greenland, Grenada, Guadeloupe, Guam, Guatemala, Guernsey, Guinea, Guinea-Bissau, Guyana, Haiti, Honduras, Hong Kong, Hungary, Iceland, India, Indonesia, Iran, Iraq, Ireland, Israel, Italy, Ivory Coast, Jamaica, Japan, Jersey, Jordan, Kazakhstan, Kenya, Kiribati, Kuwait, Kyrgyzstan, Laos, Latvia, Lebanon, Lesotho, Liberia, Libya, Liechtenstein, Lithuania, Luxembourg, Macao, Macedonia, Madagascar, Malawi, Malaysia, Maldives, Mali, Malta, Marshall Islands, Martinique, Mauritania, Mauritius, Mexico, Micronesia, Moldova, Monaco, Mongolia, Montserrat, Morocco, Mozambique, Myanmar, Namibia, Nepal, Netherlands Antilles, Netherlands, New Caledonia, New Zealand, Nicaragua, Niger, Nigeria, Niue, Northern Mariana Islands, Norway, Oman, Pakistan, Palau, Palestine, Panama, Papua New Guinea, Paraguay, Peru, Philippines, Poland, Portugal, Puerto Rico, Qatar, Romania, Russia, Rwanda, Saint Kitts and Nevis, Saint Lucia, Saint Tome and Principe, Saint Vincent and the Grenadines, Samoa, San Marino, Saudi Arabia, Senegal, Serbia and Montenegro, Seychelles, Sierra Leone, Singapore, Slovakia, Slovenia, Solomon Islands, Somalia, South Africa, South Korea, Spain, Sri Lanka, Sudan, Suriname, Swaziland, Sweden, Switzerland, Syria, Taiwan, Tajikistan, Tanzania, Thailand, Togo, Tonga, Trinidad and Tobago, Tunisia, Turkey, Turks and Caicos Islands, Tuvalu, Uganda, Ukraine, United Arab Emirates, United Kingdom, United States, Uruguay, US Virgin islands, Uzbekistan, Vanuatu, Vatican City State, Venezuela, Vietnam, Yemen, Zambia, Zimbabwe